How to save money on a journey – that's the question. How can you save money when traveling to Asia alone, as a woman, for the first time? The reasons why you want to save money can be due to debts or perhaps you're just trying to save some money so that you can travel more.
Whatever your reason might be, you will find some inspiration on how to keep your costs per day low in Asia, South America, Australia, or any international travel for that matter. Not all these tips will apply to you, as you may value some aspects of your travel more than others.
Is budget backpacking the ultimate answer to money saving?
The answer to the above question is clear: no, not necessarily. I mean backpacking is a great way for a solo female traveler to save money but it's not the complete answer. There are other areas that can be tackled besides accommodation to put your dollar to the best use, such as finding the cheapest transport options, the cheapest street foods, and other forms of bargains.
Also, backpacking is not for everyone. It demands a certain level of stamina and physical fitness — a requirement not all of us office-dwelling creatures can meet.
Budget Asia Travel Tips for the Female Solo Traveler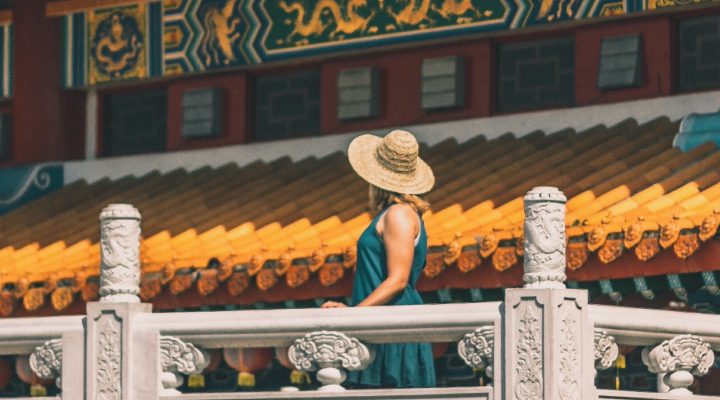 1. Talk to locals
Apart from the fact that a local knows the best, most happening spots in an area, it is also just interesting and fun to get to know a local person.
The insider tips they can give you will usually give you more travel pleasure, inspiration and most importantly a local insider's secret to money saving at that locale.
2. Travel slow
In other words, spend more time in fewer destinations. Traveling is not just about completing a bucket list, but also about enjoying yourself and being able to live without stress. An additional advantage is that it will benefit your budget.
Why? Getting from one destination to another involves transits and unless you're walking, there will be some kind of transportation expense. Also, let's not forget, if the destinations are far apart, chances are you will find a different place to stay.
But I'm not suggesting that you only go to one spot though, I'm saying that there is a balance that you can achieve when money saving is a factor.
3. Stay for a longer period at one hostel
At many hostels (youth or backpacker) the price decreases as the longer you stay. Use this to your advantage by booking in advance.
Yes, I'm talking about long-term stay discount or bulk discount. They aren't always available, but when you find discounts like these they can be big money savers.
If you know, for example, that you are going to stay on a tropical island for 1.5 weeks, then you can discuss with the hostel owner / management that you will spend the night at least one week at his or her accommodation. Then you can negotiate the price.
Extra tip: Call or email the hostel for the prices offered by intermediaries (AKA agents).
Extra extra tip: Check whether your hostel offers free breakfast or not. And let's not forget WIFI.
4. Be Savvy with Social Media
Today it is becoming increasingly common to distribute travel offers, coupons and the like through various social channels.  Think Twitter and Facebook.
Follow or 'like' your favorite platform and keep an eye on the various offers.
What kind of social accounts should you follow? Personally, airlines, hostels, hotels, and etc.
One of the more popular budget airlines in Asia is Airasia. Although I'm not a big fan of their services, they do have promotion routinely throughout the year, so that may be a good account to follow: Twitter and Facebook.
5. Eat street food
Eating at street stalls is extremely cheap in Asia. But price is not only the reason you should be doing this. Asia is about the street food. It's the soul and the core of Asian food culture.
Eating street food is the best way to experience Asia's food culture. Sure, there are many more expensive foods you can try in Asia but the variety and uniqueness of Asia's street food are not to be missed.
Pay attention to where the locals eat, these are usually the cheaper and tastiest places to eat. The nice thing about street food is that you can see what is being prepared in front of you. A happening in itself!
6. Cook your own food
Street food is cheap and delicious in Asia — you already know that.
But guess what's could be even cheaper? That's right, cooking your own food!
If you are staying in an accommodation where a kitchenette is available, use this (maybe you are an expert on this). In Australia, this is very common, in Asia a little less. As always, do your research ahead of time.
Notice the italicized "could be" in my second sentence? Well, that's because it largely depends on where you get your ingredients. If you buy your ingredients from a high-end grocery chain, your cooking may end up being more expensive than eating out at a food stall or a cheap local mom and dad restaurant.
Another advantage of cooking your own food? Share it with fellow travelers at the hostel. Bonding over food is fun and a great way to make life-long friends.
8. Do your own laundry
To keep every single one of your hard-earned coins (mostly) in your pocket, do your laundry by hand. That does mean that you'll need to invest in a detergent. A possibility is to use shower gel or soap instead.
Although laundromats are not outrageously expensive in Asia, it can still cost you a little bit of money. How to spend less in this area if you don't plan to do your laundry by hand is worth your time? Look for a coin-operated laundry machine. These machines are often cheaper than a laundromat and much faster. You can usually find these machines at a hostel, hotel, or a commercial area that is close by.
Yet another way to save money with your laundry is to batch them. A laundry machine is capable of washing a certain amount of clothes, so accumulate your dirty clothes until they can fill up the machine completely. Have the tendency to do laundry frequently? Partner up with a like-minded fellow traveler who also needs her or his laundry done.
9. Take part in free activities
Make no mistake, there are so many activities that do not cost money. Go to a local market, to a national park, go swimming at a waterfall, walk on a mountain or go running along the beach or in a park. There are still plenty of options. Use it to your advantage!
How to find activities like these? Ask your host. Make inquiries at the tourist information center. Search online. Create a thread on a travel forum.
10. Shop where the local shops
The local market, that is, go to the markets where locals do their shopping. Here you often pay a fraction of the price compared to the regular stores. Avoid branded international chains.
11. Choose cash money above your bank card
If you go out for dinner or have a wild night out, I advise you not to bring a bank card but cash. Using cash will at least help you to stay mindful of the your expenses.
12. Note the current exchange rates
It may be a bit extreme to choose your destinations on the basis of the prevailing exchange rate, but guess what? When it comes to traveling on a budget, it is absolutely NOT extreme, like at ALL.
Does the rate fluctuate a lot or is it stable? Find the right time to buy the foreign currency.
I know this is easier said than done, but it's an idea.
13. Make sure you know the basics of the language
If you know the language principles of the country you are going to, you will earn more respect from the locals. This respect can lead to more loyalty again.
In addition, you can make yourself understandable and you stand stronger in negotiating positions.
14. Take your student card with you
If you are still studying, make sure you have your student ID with you when you go backpacking in Asia.
Various museums, activities, transport providers and hostels offer significant discounts if you can prove that you are a student.
Unethical life pro tips — if you have an old student ID that does not have an expiry date on it, you can still use that to get the discounts that you no longer deserve.
15. The Internet is often cheaper in an internet café than in a hostel
At least, if you want to use a computer, you can.
In hostels, the use of these is often a lot more expensive than in any internet café.
Apart from being cheaper, the connection in internet cafes is often much better. You beat two birds with one stone.
16. Travel as the locals do, through local buses
In other words, do not take the plane, the tourist minivans or the taxi for everything.
Do what local people do, but use public buses and trains.
It may take a bit longer and sometimes it is less comfortable, but it is certainly worth considering.
17. Visit the tourist information points
At the local tourist info offices, you can usually get a tourist card with which you can visit certain city attractions for free or at a reduced rate.
It also happens that you can use public transport free of charges, such as city buses or trams, and you can eat and drink cheaper at (good) restaurants.
18. Be flexible if you're planning to fly
Be as flexible as possible — do not pin yourself at a certain date or time. For that matter, don't even have a fixed destination.
Be fluid, go with the wind, follow the flow. Flight ticket can easily be the most expensive item of your travel budget, the best way to find cheap flight tickets is when you're not looking anything in particular.
Second of all, be patient. Take your time. You will want to be aware of the average ticket price to a certain destination and have your credit card ready at all time. When a promotion happens, jump in swiftly and grab that ticket at the record-low price.
The prices for a flight ticket can fluctuate strongly per day and hour. This applies to both domestic and outbound flights. So keep this in mind too.
How to find cheap flight tickets? I have had some lucks with official airline websites, but free third-party services like Kayak, Skyscanner, and Google Flights are extremely helpful when your travel dates and destinations are flexible.
Let's Go See The World
Certainly, first-time travelers — whether you're going to Asia or another continent — often do not yet know the 'how' and 'what' and therefore do not know the most effective way to save money.
But experience is a good teacher, so don't worry if you don't manage to apply the tips in this article during your travel, you can always learn from your personal experience after the trip.